Therapeutic Horseback Riding Program Books
---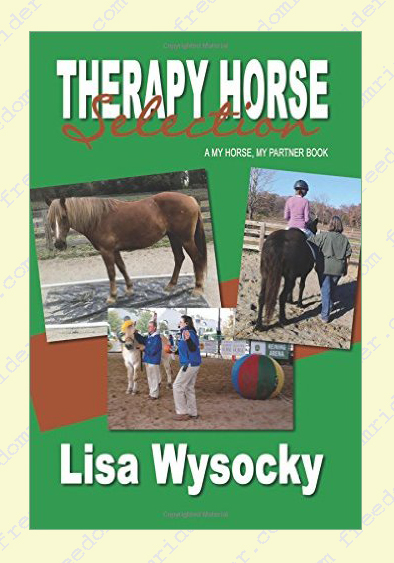 Therapy Horse Selection
Lisa Wysocky. What makes a good therapy horse? Or any horse for that matter? Is it size, temperament, training, build, soundness, even age? It is all that and more.

Therapy Horse Selection walks you through the process of choosing the best therapy horses for your program, and sets you and the horses up for a high ratio of success. It is also a trusted guide for anyone who is looking for a horse of their own. From the first look, to assessing needs, to understanding the many red flags, to a series of useful forms along with forty-five illustrative photos, Therapy Horse Selection is a must have for every PATH, EAGALA, hippotherapy, or other riding instructor or program.

Lisa's common sense and experience give insightful revelations. I love how concise she is while clearly defining each step of the process! Lisa's books are definitely in my library of go to info when I need help training and selecting my therapy horses. ­­Patty D'Andrea, PATH International Advanced Instructor, Founder/Executive Director, Healing with Horses Ranch, Manor, TX

Lisa Wysocky is a Registered PATH (Professional Association of Therapeutic Horsemanship) instructor, mentor, and ESMHL who trains horses for equine assisted activities and therapies. She consults with PATH and other centers across the country about their horse herds, and oversaw the training of the rescue horse Valentino from a youngster who was barely halter trained to being chosen as the 2011 PATH International Equine of the Year. She is also the author of the multi award-winning Cat Enright horse mystery series. Paperback. 157 pages.

08-0110 Therapy Horse Selection $16.99
---
Mentor's Guide: Therapeutic Riding Instructor: Registered Level
Devlin. A succinct workbook designed to assist a mentor in the planning and execution of a training program for Therapeutic Riding Instructors.

It can also serve as a review of the essential topics of study for those interested in becoming instructors.

It answers the following questions:
WHAT: What areas of knowledge are essential to becoming an effective TR Instructor?
WHY: Why are these topics essential and how are they applied?
HOW: Tips are offered on how to present the topics, as well as how to have fun while imparting your wisdom.
This is not a textbook, and does not presume to offer all of the knowledge you will need. For each topic, references are given to enable more in-depth study and lifelong learning is encouraged throughout!

Author Joelle Devlin is a Master Instructor through the Professional Association of Therapeutic Horsemanship International (PATH Intl). She is a past-chair of the PATH Intl Therapeutic Riding Instructor Certification Committee and Lead Evaluator for Registered, Advanced, and Master Certification levels. During her twenty-plus years in the therapeutic riding industry, she has mentored numerous candidates to become effective, successful therapeutic riding professionals. Above all, she is a Therapeutic Riding Instructor herself, committed to improving her students' quality of life through interaction with her partner, the horse.

08-0135 Mentor's Guide: Therapeutic Riding Instructor: Registered Level $24.99